5 Exercises for Checking-in and Slowing Down
We all know life can get busy at times. All of us lead different lives consisting of a variety of stressors. As a result, one person's busyness is not always the same as someone else's, and being busy can be both positive and negative. It could look like getting a promotion at work, a hectic time socially, a lot going on in your head, family or work drama, etc. It's common to hear yourself saying phrases like "I don't have enough time," "I can't, my schedule's packed," "I don't have the capacity right now," or "I need more hours in a day." When life feels restless, sometimes we can forget about ourselves in the process. We may find that we're checking in on the ones around us but often neglecting how we feel. How are you? How's your day going? How are you feeling? Such simple questions, but our own needs can easily slip through the cracks.
So let's try slowing down for a moment. Unclench your jaw, soften your forehead, relax your shoulders, take a big inhale and exhale. Nice work.
Checking in with yourself is a healthy emotional act that can improve your mood and strengthen your relationship with yourself and the people around you. It is important to remember that checking in on yourself will allow you to be the support you want to be for others.
Here are five exercises you can try to slow down and touch base with yourself.
---
Exercise 1: Simple, honest check-in
How are you doing? What's good right now? What's unsettling or uncomfortable? Ask and answer yourself, whether you do it out loud, in your head, or write it down. This can be as short or as long as you'd like. This may help answer some questions about varying moods or feelings and can potentially push you to take action steps or ask for support in certain areas of your life where it's needed.
Exercise 2: Tuning in with your breath
Place one hand on your chest and one hand on your stomach. This exercise works best while you're sitting, lying down, or standing while leaning against something. With your eyes closed or focused on an object, take a minimum of 10 long inhales and exhales.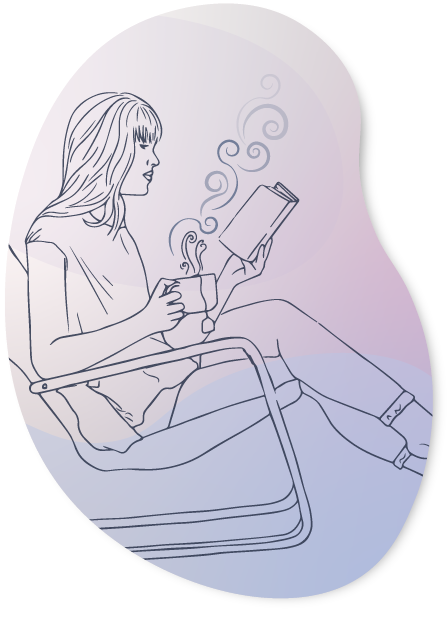 Exercise 3: Reflection
Try playing 'Peak, Valley, Future' with yourself or out loud with someone else. This can be a reflection of one day or an entire week, whatever feels right for you.
Peak = What's something positive that has happened or has brought you joy?
Valley = What's something that has brought you down or bummed you out?
Future = What are you looking forward to or hoping for (i.e. for the following day or week)?
Exercise 4: Movement for the body and mind
You've checked in emotionally, but how is your body feeling physically? Are you tense and sore or loose and limber? What is your body craving right now? Try doing 5 minutes of yoga, going for a stroll down the street, or dance to your favourite song. Notice how your body feels. Endorphins are released in response to movement, which helps calm our body and mind, increases energy, and reduces stress.  
Exercise 5: Creating a 'Feel Good' List
Checking in doesn't solely include asking yourself how you are but also making time for yourself. Write down a list of at least five things you enjoy or make you feel good that you can refer to later for when you're feeling overwhelmed, need a break, are bored, or need some quality solo time (i.e., cook your favourite meal, take yourself on a date, explore a new neighbourhood, read that book you never started, or whatever may tickle your fancy). Heck, do one of these activities now if it's been a while!
If you would prefer an application to help you slow down and check in on a more regular basis you can try these options:
Aloe Bud is an app that acts as a "self-care pocket companion" that sends you gentle reminders for self-check-ins and reflections throughout your day.
Aura is an app that includes guided meditation, cognitive behavioural therapy exercises, and mood and sleep tracking.
It's so important for your well-being to slow down, check-in and make time for yourself. Try and make a habit of it whether you start with once a day or once a week; the more you do it, the easier it will be and the more natural it will feel. Remember, there's only one of you. You matter, and you deserve to be loved and cared for, especially by yourself. And by taking time for you, it's not only benefiting yourself but the people you want to be there for as well.
Written by: Jaime
What Is Rape Culture and How Does It Work?
We have come a long way since the "me too" movement began, but there's still a tremendous amount of work that needs to be done in eliminating rape culture. The phrase rape culture may be familiar to you, or you may have no clue what it means. To give you some context, rape culture was coined by feminists in the 1970s and it was designed to show the ways in which society blamed victims of sexual assault and normalized sexual violence. It is a culture of having sympathy for the abuser, rather than the violated individual. This can mean making excuses for the perpetrator's actions, questioning the survivor on what they were wearing at the time, or questioning if substances were involved. No one goes out expecting to be sexually violated. Yet, rape culture has instilled the idea that women must go through extra precautions to avoid being violated. It can be just as challenging for men to report an assault as they too face a scrutinizing amount of victim-blaming. Toxic masculinity is partly to blame here, as men are often shamed or encouraged to stay silent if they've been assaulted.
"All too often, when we see injustices, both great and small, we think, That's terrible, but we do nothing. We say nothing. We let other people fight their own battles. We remain silent because silence is easier. Qui tacet consentire videtur is Latin for 'Silence gives consent.' When we say nothing, when we do nothing, we are consenting to these trespasses against us."

Roxane Gay
So, essentially when someone uses the phrase "rape culture," it involves victim-blaming, supporting the perpetrator, and not recognizing how huge and systemic an issue sexual violence really is. We see this happen a lot within the news. For example, when a young and academically successful person has been found guilty of sexual assault, they are often given a lighter sentence due to their "bright future." Judges instead probe and grill survivors during court cases, which makes it incredibly difficult to come forward. The justice system is notorious for victim-blaming. Our society believes that only certain people can be rapists, which is far from the truth. There has been a failure to understand that just because someone appears "nice" doesn't mean that they can't assault someone. There are so many myths around how sexual assault works, which contributes to rape culture. For example, saying "yes" does not automatically mean someone wants to participate in any form of sexual activity. A "yes" said out of coercion is not consent.
Here are a few more examples of how rape culture works:
Women must be sexually passive and submissive, whereas men are encouraged to be aggressive and initiate sexual behaviors with as many women as possible.
Jokes about sexual assault
Teaching girls to cover up (i.e. dress codes, where students are forced to change or even go home if an outfit is too "tight," or in many cases if a bra strap is showing. Teachers saying this is too distracting for students is part of why rape culture still exists.
"Boys will be boys" phrase.
Assumptions on the kind of individuals who get assaulted and failing to realize it can happen to anyone.
Movies that depict men being sexually dominant and pursuing a girl after she's said no countless times.
Excusing rape and assuming it is a normal part of our society while underestimating its devastating effects.
Defending celebrities and getting angry at the women who come forward.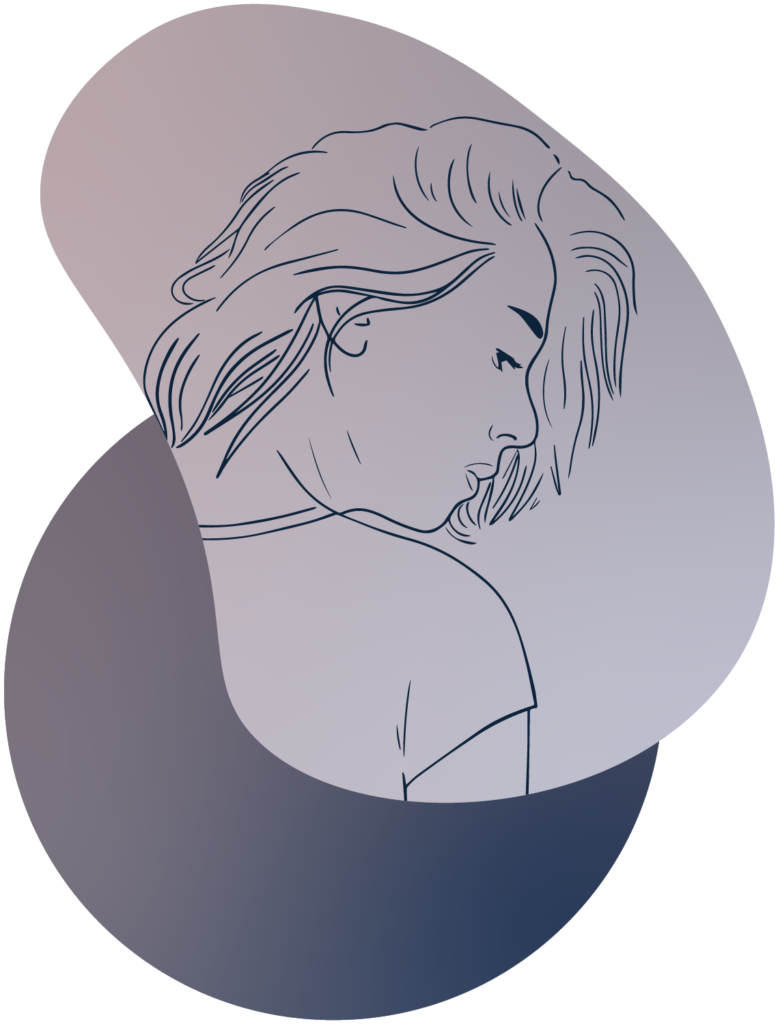 For a more in-depth look at everyday examples of rape culture, this article shares some more insights.
To eliminate rape culture, we must become more self-aware of our own attitudes and biases surrounding it. It would be beneficial to self-reflect and understand why you may hold certain beliefs and educate yourself on improving and becoming more of an advocate in ending rape culture. In fact, reading this blog is already a start. You can also educate others, and if you see someone using derogatory language or jokes surrounding sexual assault, call them out and let them know why it's wrong. In other cases, when talking to a friend who has been sexually assaulted, it's important you support them and not excuse the abuser's behaviour just because they seemed "nice."
Remembering that the stereotypes for who can be a rapist are not always accurate. In reality, it can be someone you don't expect. To end rape culture, our society must stop putting survivors in a pool of shame and guilt because they chose to do an extremely brave thing; coming forward and seeking justice.
For more information, these websites share some great ways we can eliminate rape culture:
Written by: Taryn Herlich
Resources:
https://www.marshall.edu/wcenter/sexual-assault/rape-culture/
https://www.huffingtonpost.ca/entry/rape-culture-sex-assault_ca_5e6660f5c5b605572808dab0
Safety Planning For Those Living With Abuse
If you're living in an abusive situation both your safety and your children's safety is of utmost importance. We recognize that it's not always simple to understand what to do next, and how you should go about dealing with this difficult situation. Living with abuse can create immense stress, and is something no one should have to face. While you want to leave, we realize that it's not as easy as many imagine it to be. Your safety and well-being always comes first which is why we've created a comprehensive safety plan for you to read.
Planning
You should begin this process by having a plan in mind. This can include speaking with family, friends or a professional who can help support and assist you in the steps you need to take to break away. Ensure that there's at least one person within your life that's aware of the abuse. Gaining advice on your legal rights if there are children or property involved is also beneficial, or if you plan to get a restraining order and want to press charges against your abuser. If you don't have a steady flow of income or home you can live in once leaving, it would be advised that you look into nearby shelters, as well as the financial aid within your local area. We recognize that it can be challenging to search these things on your cell phone or computer as your abuser may look through the search history. It's recommended that you have a friend or family member make these searches, use a public computer or choose the times you do this research very carefully (i.e when your abuser isn't home). Once you find the information you need, delete your search history, and keep private browsing on when making these searches. Below are links to legal, financial, and housing resources, as well as instructions on how to delete your search history.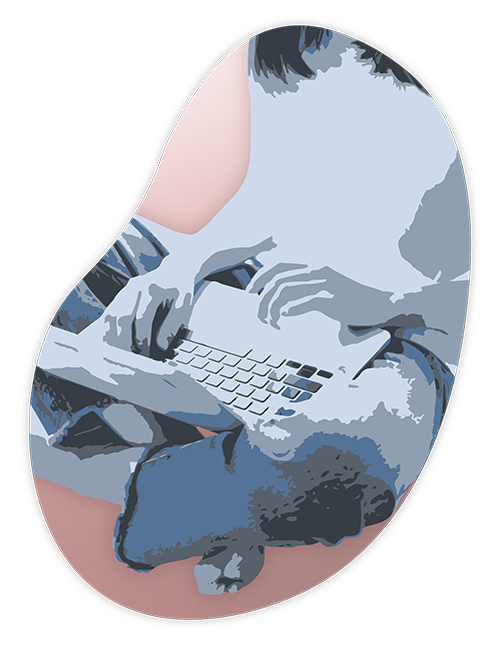 Important Points to Remember
Inform people you trust that there's abuse going on.
You can speak with a professional on how to develop a safety plan that supports your needs (call this helpline https://www.awhl.org).
If you have children, practice leaving with them, and let them know that abuse is never normal and that this is not their fault nor what love looks like.
Ask your neighbours, friends or family to call the police if they hear sounds of abuse.
Have a list of emergency numbers to call if you need help.
Always ensure that your cell phone is charged and the car is fully fueled.
Park your car by backing it into the driveway (this makes it easier to drive away).
Check your home for weapons that could easily be used if a fight broke out and remove them from your home.
Keep all your valuables and belongings you plan to leave with, in a safe space that's easy to access before leaving.
If possible, find a time to leave your home when you know your abuser isn't around.
Don't tell your partner you're planning to leave.
Try to be within a space where you can easily get outside if an argument did break out. Never go to a kitchen where appliances can be used against you.
Don't wear long jewellery or scarves, that can be pulled or used against you for choking. You should also keep your hair in a top knot in order to avoid hair pulling.
Plan what you're bringing with you ahead of time. See list of important items you should try to bring with you.
Always have your internet history deleted, or make your searches from a friend/family member's phone.
Delete messages or emails that have private details.
Take pictures or have a friend take them from their phone of bruises and signs of abuse. Keep all messages from your abuser, and excessive signs of stalking through calls and texts as this can be used if you plan to press charges or file a restraining order.
When Leaving…
Ensure you have a place to stay and a plan for getting there. You can have a police officer escort you to a shelter, or whichever location you plan to go to. You can request a police officer's presence by filling out this form if you live within the GTA. http://www.torontopolice.on.ca/paidduty/. However, it could also be easier to try calling your local police station for more information. Just remember, to delete any evidence of making that call or do it from someone else's phone.
Have a backup plan if your abuser finds out your escape plan. This could include changing the location of where you planned to go, or leaving at a different time.
Packing Checklist
Do your packing ahead of time and take whichever items are easiest for you to get. We know that your abuser may keep tabs on certain items, and understand that it can look suspicious if they notice things beginning to go missing. If possible, leave important items with a trusted friend or family member ahead of time, as your partner could find the bag where you're hiding these things. If you have a pet, have a friend or family member take them temporarily in order for you to leave in a swift manner. Below are the items to take with you: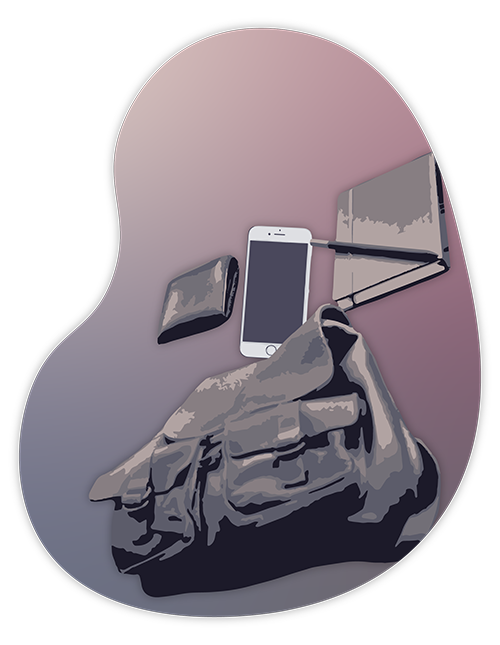 Drivers License
Health cards for yourself and children if you have any
Social insurance card
Passports
Any legal papers (immigration papers, restraining orders, treaty cards, court orders)
Cash
Checks
Credit/debit cards
Mortgage and lease
Cellphone
Medication if you have any
Toiletries
Sentimental items
Things to Consider After You've Left
Inform your children's school about what took place and leave them with a picture of the abuser. This can ensure that they can never pick your children up from school and staff will know to call the police if they show up (give them any relevant documents as well).
Apply for a restraining order that will also keep the abuser away from your children if you have any
Change your number, and any services you may have shared with this person (i.e banking)
Be aware of how you can ensure a safe presence online for yourself and your children. We have a detailed article on how to do this, and feel this step is crucial in ensuring further safety
Never return home unless escorted by police.
Do not keep in any form of contact with your abuser, block their number, social media and any way they can find you.
Don't confront your abuser.
Don't go into areas you know they'll be and avoid walking alone or in deserted neighbourhoods, streets etc.
We hope this plan helps give you an idea of where to start during this process. Remember, the abuse is never your fault and you shouldn't feel guilty for not leaving sooner. You will get through this.
Resources:
https://www.canada.ca/en/public-health/services/health-promotion/stop-family-violence/plan-your-safety.html
Written by: Taryn Herlich
Signs Of A Sexually Abusive Relationship
It can be a confusing process to notice signs of sexual abuse in a relationship. The lack of information and discussion around this topic is scarce, making many survivors feel isolated and ashamed to seek help. It can be upsetting to realize that your relationship is abusive and doesn't make the process of leaving any more straightforward. We want you to know that there are resources available, and you deserve to be supported. Recognizing the signs is the first step, which is what we're going to talk about.
A sexually abusive relationship can happen to anyone, regardless of gender and sexual orientation. Signs of this abuse can range from being forced to take oral contraceptives, or on the other hand, a partner refusing to wear protection. If STDs are knowingly and continuously transmitted, this is a form of sexual abuse and a serious crime. These examples all put your safety and emotional well-being at risk and often come with some form of coercion, manipulation, gaslighting, and in some cases, physical abuse if you choose to challenge the behaviours.
Other forms of sexual abuse in a relationship can mean coercing a partner to engage in sexual activities they are not comfortable doing and forcing them to add additional people to participate and watch. This person may retaliate with physical or emotional abuse if their partner says no. An abuser may also get their partner intoxicated, and in some cases, unconscious to have a greater chance of engaging in sexual behaviours. This is non-consensual and never okay. Your partner should never use substances with the intent of taking advantage and assaulting you.
More examples of sexual abuse in a relationship include:

Involuntary coercion to engage in pornography
Taking nude photos without consent
Any form of unwanted penetration
Stealthing, which is the act of removing a condom or barrier without making the other person aware
Continuing to perform sexual behaviour that hurts the partner after they have asked the perpetrator to stop
Using physical and emotional abuse when a partner is sick or uninterested in engaging in sex
Inappropriate touching while their partner is asleep
The perpetrator is convinced they are being cheated on. Therefore, they make it a point to accuse their partner of this daily (also a form of emotional abuse)
The perpetrator may force their partner to dress a certain way (having them dress sexually explicit)
Making one conform to harmful gender stereotypes
Abusers have tactics that manipulate and gaslight their partners' minds, making them believe that the abuse is their fault or not as bad as they imagine it to be (a significant reason why many survivors stay quiet). Abusers tarnish their partner's self-esteem, making it appear even more dangerous to leave the relationship than stay. Some deny, or shower with gifts, act as though they changed until a new issue arises and what's known as the cycle of abuse continues. It's exhausting for survivors to endure and can sometimes take months, if not years, to recognize sexual abuse in their relationships.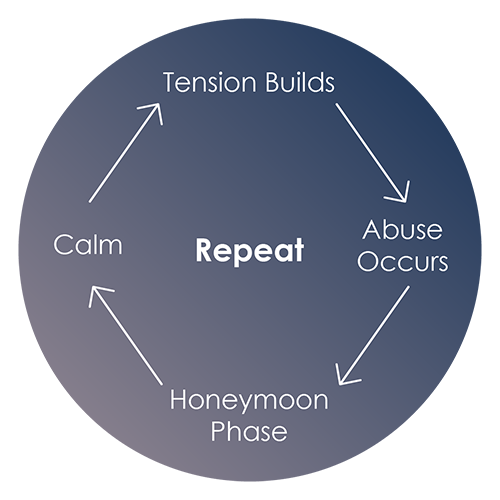 If you suspect that you are in a sexually abusive relationship, leave as soon as you can. Abusive relationships will only get worse, even if your partner has apologized and promised that they will change. Vesta has two guides that can help you through the process of leaving while also ensuring your utmost safety. We have listed them here and here.
Talking to a professional can also be highly beneficial during this process. If you have access to a therapist, confide in them about what has taken place. We also wanted to include a free helpline that focuses on domestic violence and sexual abuse.
Resources:
National Domestic Violence Hotline
24-Hour Crisis Line
Written by: Taryn Herlich
Movement & Yoga Room
About VESTA Healing Rooms
Our individually-themed rooms are designed to provide online mental health and healing resources through an interactive digital painting. Whether you're looking to relieve tension, seek mental health advice, stimulate your mind, or even discover a new pastime, we have a room suited to your needs. Explore our room here, or download it for later.
Enjoy exploring! (view the room guide here)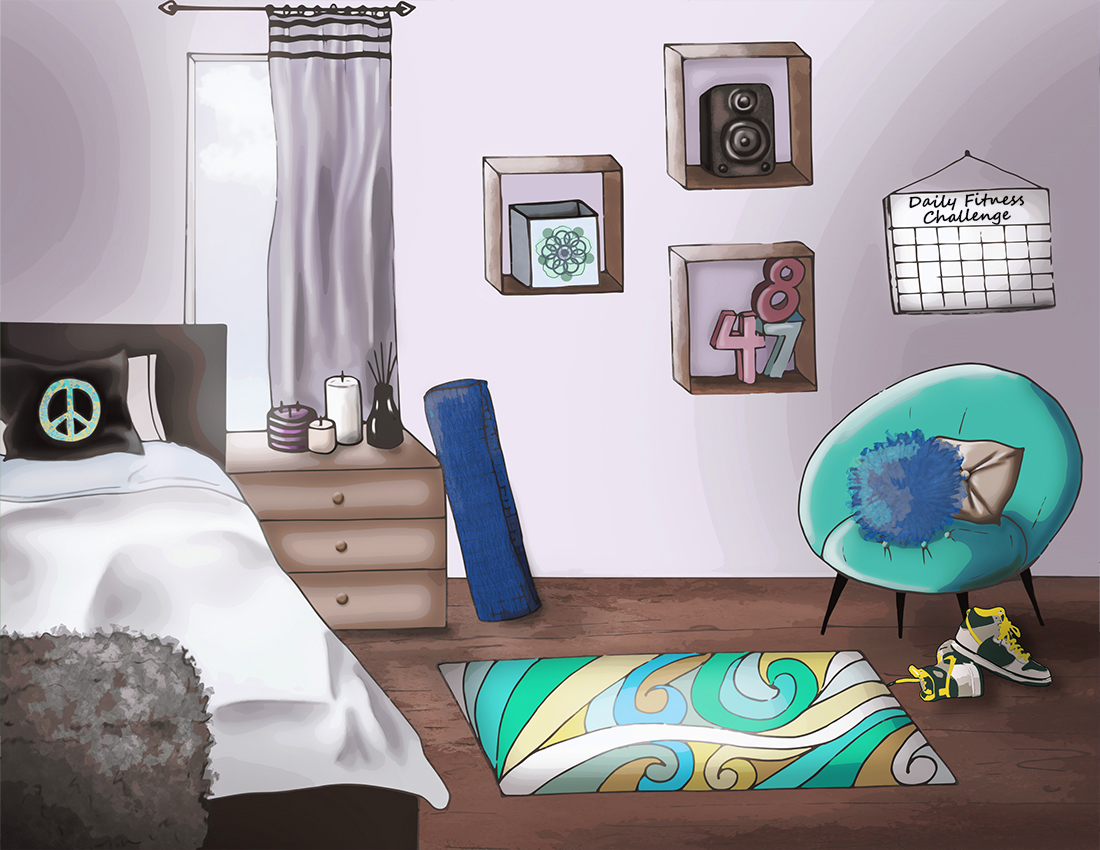 Room Guide
From left to right:
Artwork by Katie
Music Healing Room
About VESTA Healing Rooms
Our individually-themed rooms are designed to provide online mental health and healing resources through an interactive digital painting. Whether you're looking to relieve tension, seek mental health advice, stimulate your mind, or even discover a new pastime, we have a room suited to your needs. Explore our room here, or download it for later.
Enjoy exploring! (view the room guide here)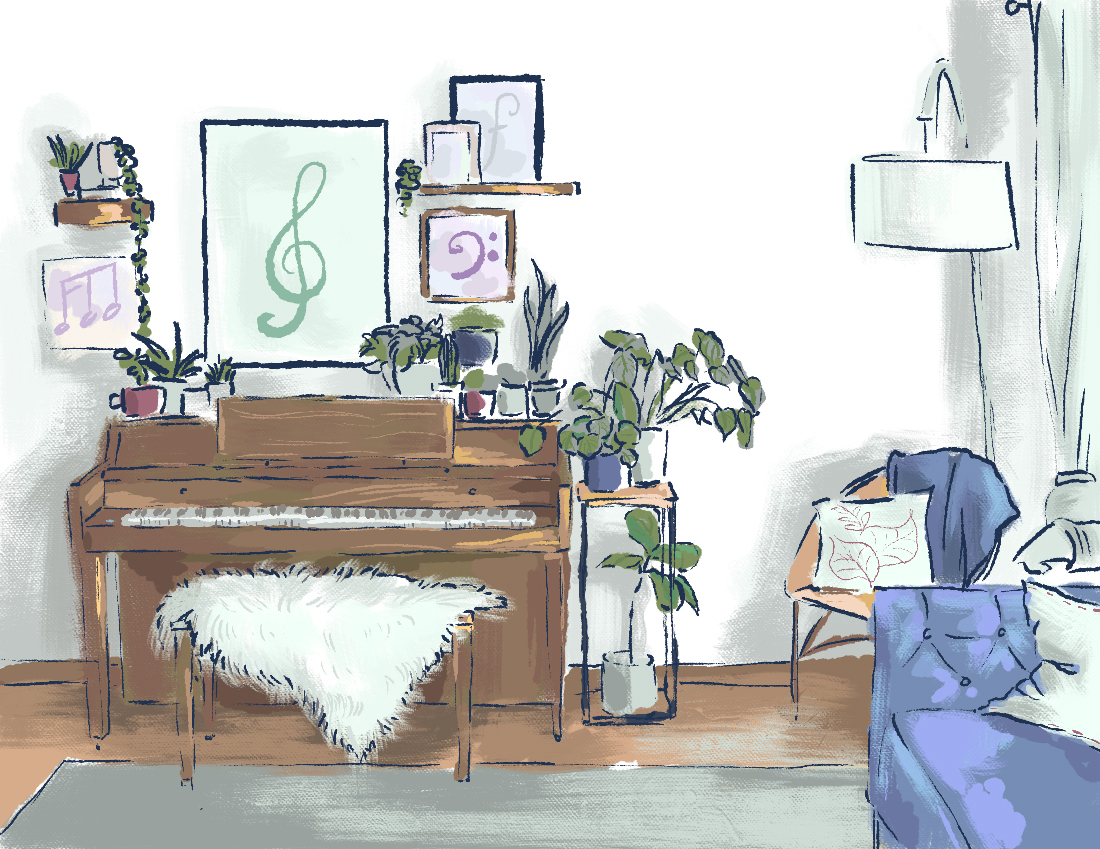 Room Guide
From left to right:
Artwork by Rui
Mindfulness Room
About VESTA Healing Rooms
Our individually-themed rooms are designed to provide online mental health and healing resources through an interactive digital painting. Whether you're looking to relieve tension, seek mental health advice, stimulate your mind, or even discover a new pastime, we have a room suited to your needs. Explore our room here, or download it for later.
Enjoy exploring! (view the room guide here)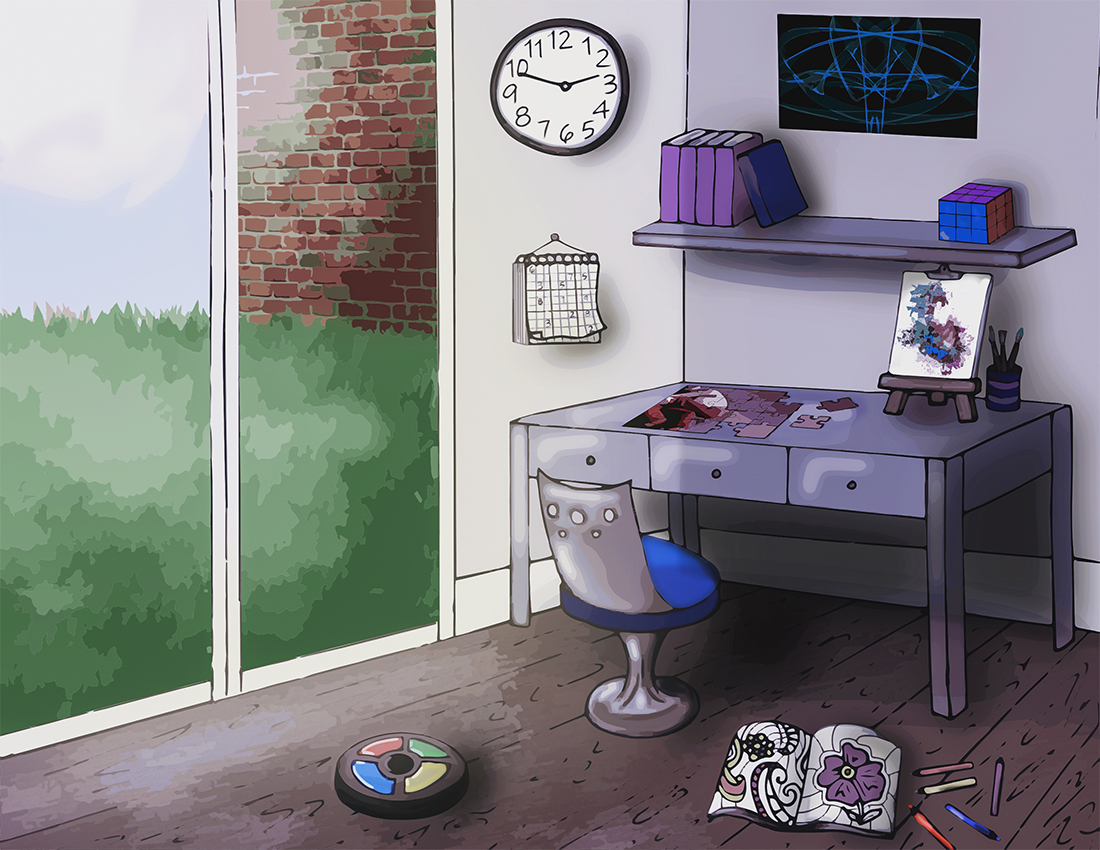 Room Guide
From left to right:
Artwork by Katie
Sexual Consent is Hot.
Consent is an ongoing process that involves voluntarily, actively agreeing and giving permission for sexual activity with partners to ensure everyone involved is comfortable, safe, on the same page and respectful of one another's boundaries. It's important to note that consent doesn't have to be sexual. People should be learning about consent and the autonomy of their bodies from a young age, understanding that your body is yours, and you have the power of making choices for your body. Asking for consent starts as early as childhood. For example, "Can I give you a hug?", "Would you like to talk about this?", "Can I help you with that?." However, for this piece, we will be focusing on sexual consent.
---
7 must-haves that make up sexual consent:
Freely given – it's autonomous, aligns with your wants, and it's your choice. No one else is making this decision for you.
Enthusiastic – can be expressed through verbal or non-verbal cues, whether you're excited and talking about it or using positive body language such as smiling, maintaining eye contact, or nodding yes.
Well-informed – partners are aware of each others' STI status, agree with methods of birth control being used, and are comfortable with the environment they are in.
Specific – Just because someone consents to one set of actions and activities does not mean consent has been given for other sexual acts. Communicate with your partner(s) what it is you are consenting to.
An ongoing conversation – it is not a one-time question and answer. Keep checking in on each other. Just because someone was interested and consensual sex, last weekend does not mean they will consent for all future encounters.
Reversible – you are allowed to withdraw your consent at ANY time. Your body, your choice.
ALWAYS needed – if it's a one-night stand with a stranger, a third date, or your lifelong partner…no matter the setting, you need each other's consent.
In movies, TV shows, and porn, it's pretty common to see sexual interactions happen quickly; no lead-up and no communication. They seem to be missing those realistic aspects – the awkwardness, the laughter, the fumbling, the sweat, and lastly, consent. You may be thinking: "Well, I've been with my partner for ten years, we don't need to ask for consent."
or "Asking for consent is sort of a buzz kill."
or "How the heck do I work consent into my sexual relationships?!"
Asking for consent doesn't need to "ruin the mood." Communication around consent can be fun, flirty, and empowering. Try getting comfortable asking questions, checking in and making it ongoing through your sexual experiences:
"How does this feel?"
"Do you like it when I do this?"
"Do you like that?"
"Can I touch or kiss you here?"
"Do you want me to take these off?"
"Can we try this…?"
"Have you ever fantasized about…?"
"Do you want me to keep going?"
"Do you want me to stop?"
"Are you horny?"
"Tell me how you like it?"
"Can you put on protection, first?"
"Should I put on protection now?"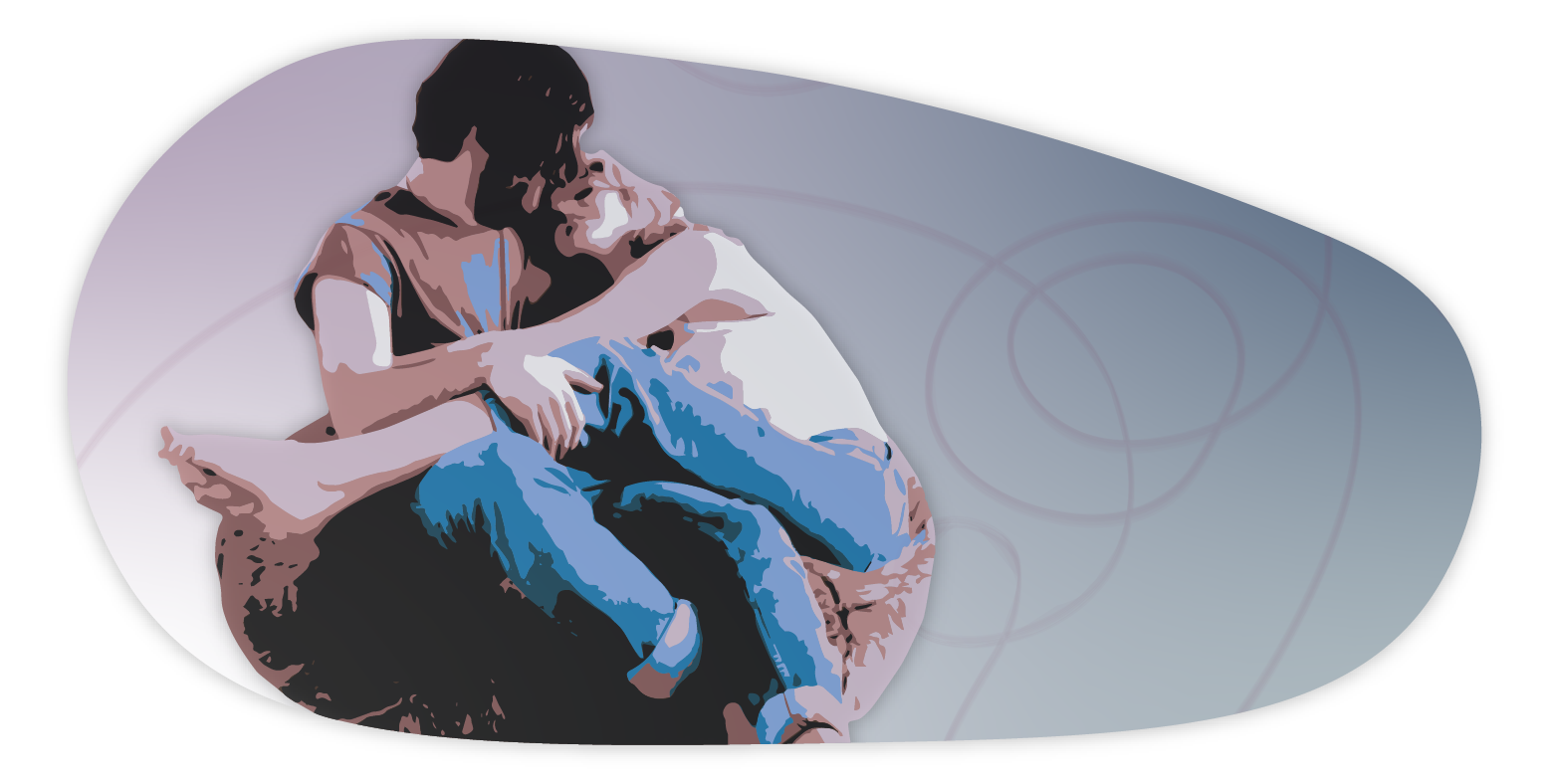 What IS NOT consent
Someone not giving consent can look or sound a lot more than just "no." It is common for people to refrain from using the phrase "no" out of fear of sounding blunt and receiving backlash from refusal. Instead, people may try a different phrase in the hope of softening the rejection. Remember, sexual activity without consent is sexual assault, which is a crime.
Verbally not consenting may sound like:
"No."
"I'm not really in the mood."
"I don't feel like it."
"Not right now."
"I don't know."
"I'm not sure."
"Slow down."
"I'm too tired."
"I'm too drunk."
"Maybe another time."
"I have work early tomorrow."
"Stop."
"Don't."
Non-verbal cues when not consenting may look like:
Silent or saying nothing
Turning or backing away
Avoiding bodily contact
Closing knees/crossing legs
Head shaking no
Pushing someone away
Crying
Distressed
Other factors where consent cannot be freely given may look like:
If someone is impaired by drugs or alcohol
If someone is asleep
If someone is unconscious
If someone is underage (the legal age of consent in Canada is 16)
If someone is being forced, pressured, threatened, or intimidated
If someone is offered rewards to do something sexual
"Note: Physiological responses like an erection, lubrication, arousal, or orgasm are involuntary, meaning your body might react one way even when you are not consenting to the activity. Sometimes perpetrators will use the fact that these physiological responses occur to maintain secrecy or minimize a survivor's experience by using phrases such as, "You know you liked it." In no way does a physiological response mean that you consented to what happened. If you have been sexually abused or assaulted, it is not your fault." – RAINN
If you or someone you know has been sexually assaulted or is experiencing sexual violence, please reach out now:
If you are in immediate danger or fear for your safety, please call 911
Sources:
https://www.instagram.com/p/CPV43JfDMlv/
https://www.huffingtonpost.co.uk/amber-amour/35-sexy-ways-to-ask-for-consent_b_9789458.html
https://www.rainn.org/articles/what-is-consent
https://www.healthline.com/health/guide-to-consent#consent-under-the-influence
https://www.ted.com/talks/cheryl_bradshaw_how_consent_is_more_than_just_a_question_and_an_answer/up-next
Written by: Jaime
Self-Care Healing Room
About VESTA Healing Rooms
Our individually-themed rooms are designed to provide online mental health and healing resources through an interactive digital painting. Whether you're looking to relieve tension, seek mental health advice, stimulate your mind, or even discover a new pastime, we have a room suited to your needs. Explore our room here, or download it for later.
Enjoy exploring! (view the room guide here)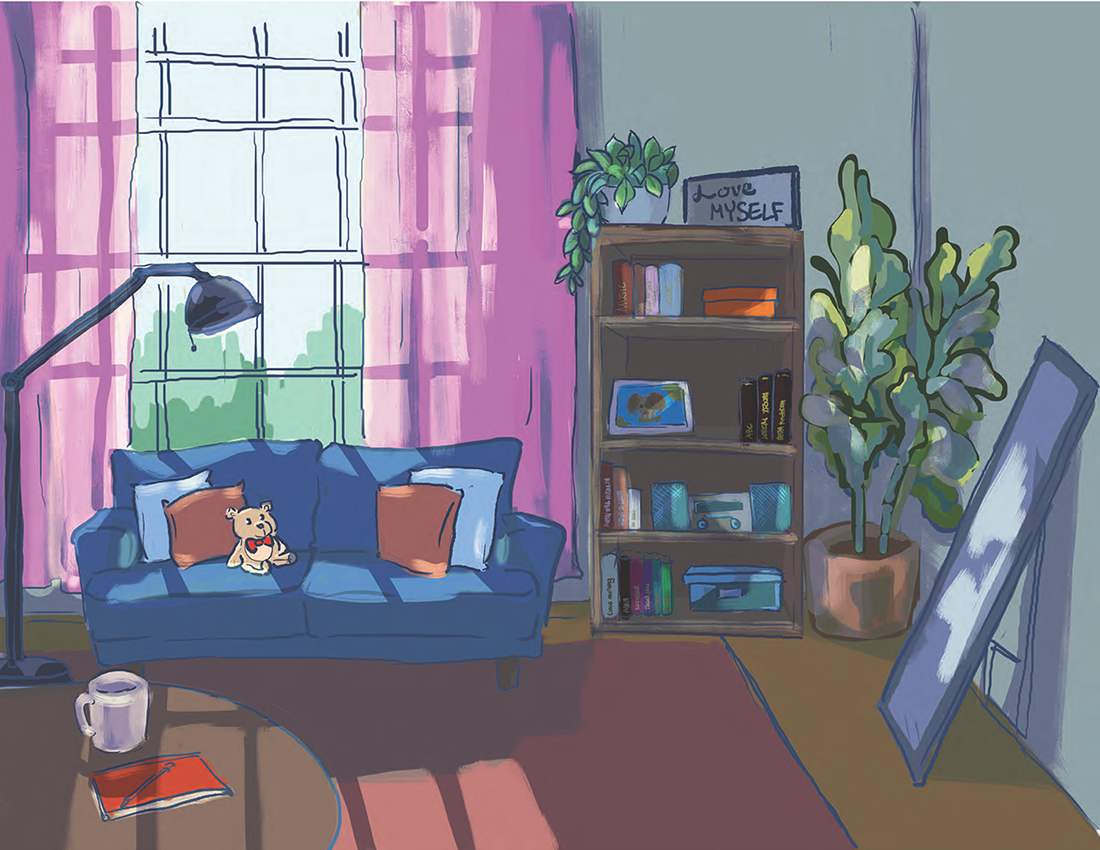 Room Guide
From left to right:
Artwork by Rui
Nature Healing Room
About VESTA Healing Rooms
Our individually-themed rooms are designed to provide online mental health and healing resources through an interactive digital painting. Whether you're looking to relieve tension, seek mental health advice, stimulate your mind, or even discover a new pastime, we have a room suited to your needs. Explore our room here, or download it for later.
Enjoy exploring! (view the room guide here)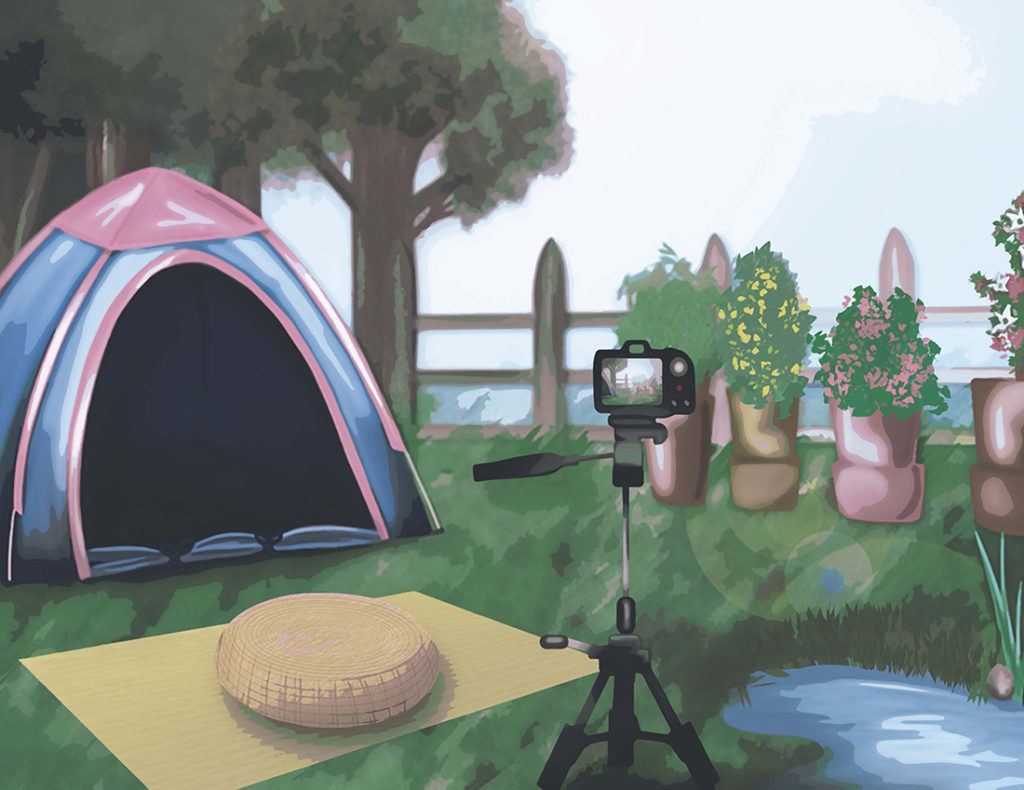 Room Guide
From left to right:
Artwork by Katie