The Sexual Harassment and Assault Resource Exchange (SHARE) is a legal service that provides free, confidential legal advice about legal and non-legal options to all Ontario workers experiencing workplace sexual harassment, workplace-related sexual assault, and gender-based harassment in the workplace to help them make informed decisions about addressing their experience. Visit their website to learn more.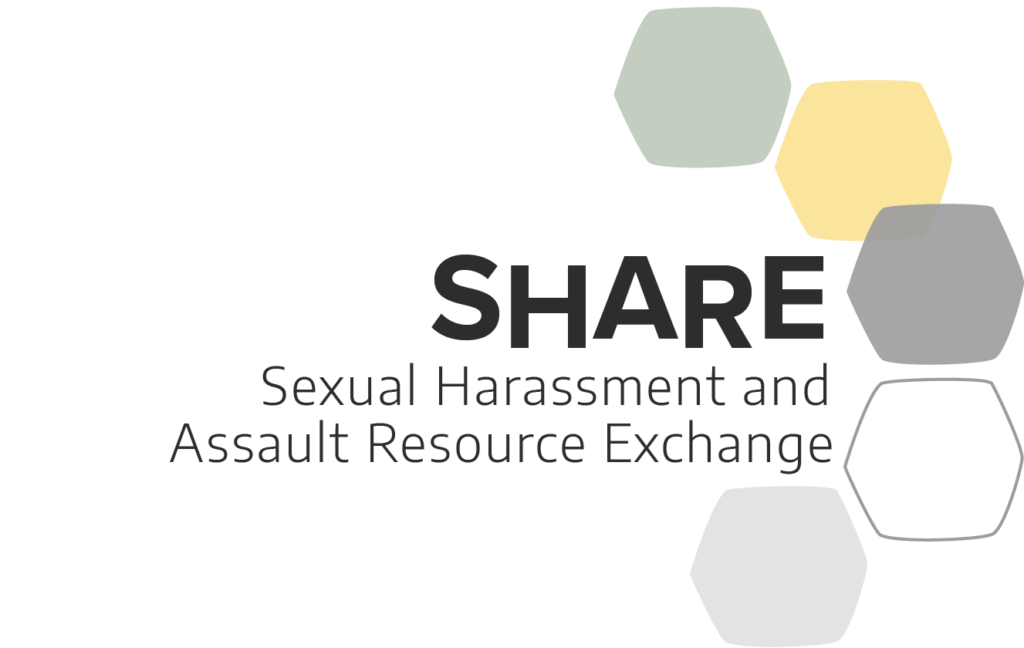 Workplace Sexual Harassment: What Does it Look Like?
Situation 1: A Black female senior manager at work overhears sexual and racial jokes made about her by junior employees, some of who she supervises.
Situation 2: A transgender construction worker is uncomfortable with the sexist, demeaning sexual jokes and comments made by other workers at a job site. They're not sure if they should talk to the supervisor at the job site about the verbal sexual harassment.
Situation 3: A 15-year-old sales associate receives repeated inappropriate sexual comments and requests for dates from an older customer at the store she works. She doesn't know if she can complain to Human Resources.
These workers are all experiencing some form of sexual harassment. Workplace sexual harassment is illegal in Ontario workplaces under the Ontario Human Rights Code and the Occupational Health and Safety Act. You have the legal right to report workplace sexual harassment and gender-based harassment to your employer. Under these laws, your employer(s) must create a safe, secure work environment free from harassment, discrimination, and violence.
Defining Workplace Sexual Harassment: What are the definitions under Ontario laws?
In Ontario, the Occupational Health and Safety Act (OHSA) and the Ontario Human Rights Code (the Code) are two provincial laws outlining your legal rights in the workplace.
Under OHSA, 'sexual harassment' is defined as:
Engaging in a course of comments or conduct because of sex, sexual orientation, gender identity or gender expression that is known or ought to know to be unwelcome, or
Sexual solicitation or advances by a person who is in a position to confer, grant or deny a benefit or advancement and where the person knows or ought to know the solicitation or advance is unwelcome.
Under the Code, workplace 'sexual harassment' is also defined as:
As a course of vexatious conduct or comment related to sex, sexual orientation, gender identity or gender expression, where the course of comment or conduct is known or ought reasonably to be known as unwelcome.
The legal definitions of workplace sexual harassment in OHSA and the Code overlap, with OHSA focusing on what workplaces must do to be safe while the Code describes the legal right to work free from sexual harassment. Sexual harassment can occur over many incidents or be one serious incident causing trauma and harm. Some examples of sexual harassment that can happen in the workplace include:

Unwanted, non-consensual touching
Standing in a worker's personal space to intimidate physically or sexually
Sexual assault
Rape jokes or comments about sex, sexual orientation, gender identity, and gender expression
Talking about sex lives or dating preferences
Spreading sexualized rumours about you or other workers
Sharing or posting sexually explicit or intimate images at work
Sexually harassing workers online
Making sexualized and derogatory gestures with hands and/or body
Asking for dates or other sexual favours (legally known as sexual solicitation)
Poisoned workplace culture and environment
Punishments and consequences for refusing sexual favours
Under the Code and OHSA, your employer must create a safe, secure work environment free from harassment, discrimination, and violence. Under OHSA, all employers are required to investigate complaints of workplace sexual harassment. Employers with more than 6 employees are also legally required to have a written workplace sexual harassment policy in the workplace. The policy should include:
The legal definition of workplace sexual harassment
Details about reporting procedure (i.e. who to file a formal report to; what details to include, what safety measures workers can request etc.)
Information about the investigation process (e.g. investigators, timelines, confidentiality measures, safety measures for the worker during the investigation)
Possible results, like the sexual harassment that occurred, are identified in the workplace investigation.
Possible outcomes, like training or termination for the harasser, that might be implemented after an investigation is complete.
Your employer is legally required to investigate all complaints of workplace sexual harassment regardless of whether the complaint is in writing. Suppose your employer refuses to investigate complaints or threatens to fire you for making a complaint. In that case, you can make a report to Ontario's Ministry of Labour about the employer not meeting their duty to investigate under OHSA. The Ministry has the power to penalize, order your employer to investigate or hire a third-party investigator. Despite these legal rights and options, you or other workers may not report sexual violence at work because of power imbalances and barriers to reporting.
Power and Control at Work: How do power imbalances and barriers impact reporting?
Sexual harassment at work is about power and control. Anyone can experience sexual harassment at work regardless of their position. However, some groups are more vulnerable than others because of power imbalances and dynamics. These two factors can impact your decision to respond or report sexual harassment to an employer. Power dynamics dictate who has more authority and power in professional relationships and settings. While power imbalances go beyond authority and can include interconnecting social factors that you and other workers may not have any control over, such as: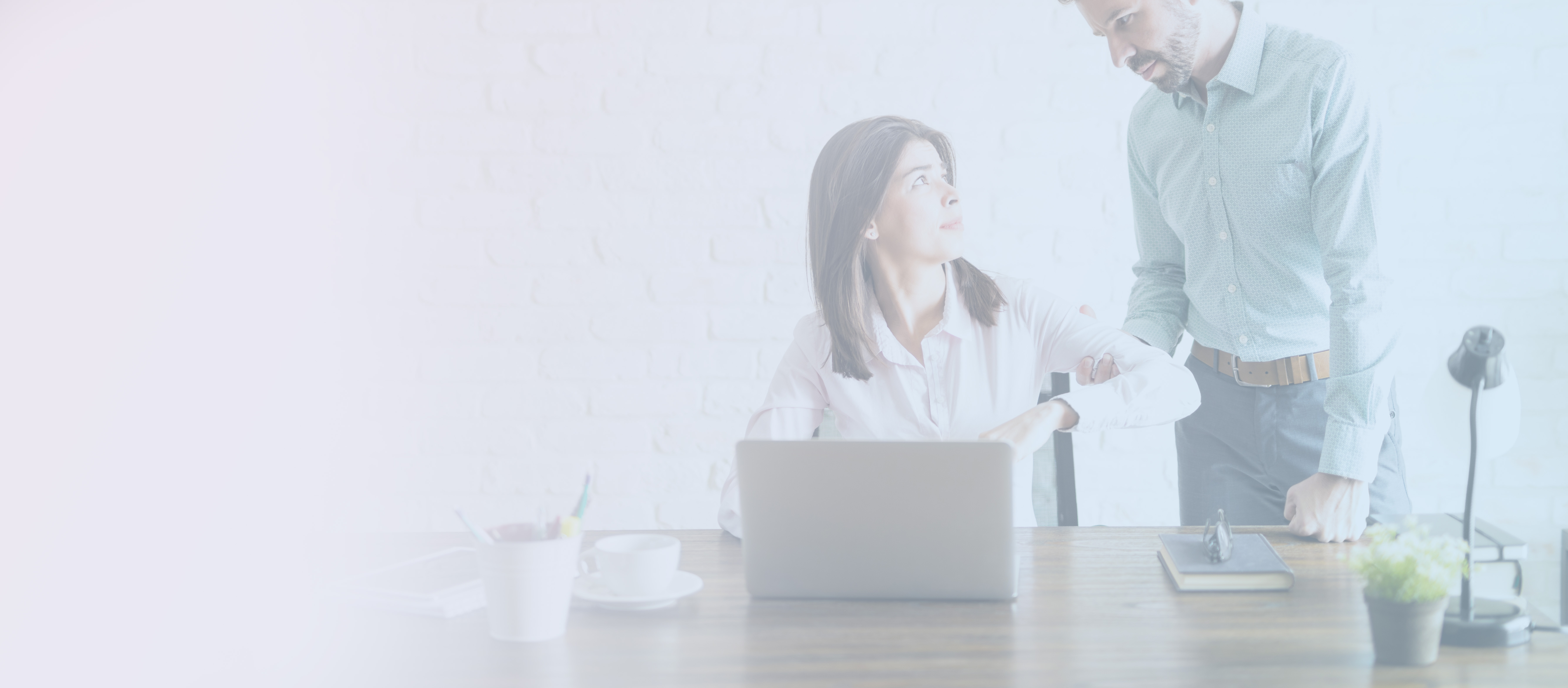 Work experience
Position at work
Gender
Race
Age
Sexual orientation
Disability status
Income/wealth
Sex
Citizenship and immigration status
Workplace culture
Power dynamics at work are often combined with discriminatory behaviours and stereotyping connected to protected characteristics under the Code such as race, sex, social assistance, sexual orientation, gender identity, disability, place of origin, and age. Many of these discriminatory actions and behaviours are hard to recognize in situations of sexual harassment at work because they might be indirect or unintentional. In the above example of the Black female senior manager, racist stereotypes depicting Black women as angry, bossy, or hyper-sexual can influence the Black female manager's experience of sexual harassment at work, even from junior employees.
Power imbalances can overlap differently for you and other workers, creating unique barriers to reporting. Power and control in workplace relationships mean you may not feel safe or supported enough to report workplace sexual harassment and violence without negative consequences. In the above example of the 15-year-old sales associate, she may not know that she can report due to her lack of job experience and age. These barriers are different from the one impacting the trans construction worker, who may not want to report fearing further ostracization from their colleagues due to difficulties finding positions that hire trans workers. Barriers to reporting sexual harassment at work include any reason you may not want to speak about your experience. Barriers include:
Fear (e.g., not being believed, being judged, not taken seriously, losing a job)
Increase in the sexual harassment
Threats of violence or harm
Shame and embarrassment
Not knowing workers can report the sexual harassment to their employers
Not knowing other available legal and support options
Not recognizing the sexual harassment
Accessibility barriers
Language barriers
Cultural-community barriers
Power dynamics and imbalances can become barriers that make it difficult for you to respond and talk about your experience of workplace sexual harassment with an employer or with people you trust. Despite these barriers, you have reasons that can motivate you to report. Motivators to report workplace sexual harassment are:
Getting help, including physical and emotional support
Addressing safety concerns
Reducing the emotional burden
Protecting others from sexual harassment in the future
Raising awareness in the workplace and community
Employer or harasser accountability
You are not alone. Support is available to help you understand your options to address your unique situation of sexual harassment at work.
What Documentation Tips Should You Remember Before Reporting?  
Reporting workplace sexual harassment to employers is a job-protected legal right in Ontario. However, reporting is not mandatory. You can choose to file a formal report to your employer only if you feel safe doing so. You do not need to file a formal report if you are unsafe or unsupported in your workplace. Speak to a lawyer for reporting options outside of the workplace. Regardless of how you choose to report, it is important to document the sexual harassment and attempts to report to have evidence is necessary for a formal report. Check out SHARE's workplace reporting tip sheet for tips while you think about reporting.
Here are five tips to remember when documenting proof of sexual harassment:
Write notes in a journal or a mobile device immediately after every single incident. Focus on the 4W's (who, what, where, and when) and the effects of the incident on you and your work.
Save all digital evidence. Your harasser may sexually harass you over text messages, emails and social media. You will want to include digital evidence in your report. Screenshot messages, record names and timestamps.
Follow-up on all in-person, telephone or video conference meetings and verbal conversations about your complaint with an email summary of everything discussed in the meeting. This also becomes evidence.
Back up all the evidence you have collected in a personal email, USB, external hard drive, or cloud storage that you have access to outside the workplace.
An up-to-date record of all experiences of sexual harassment, even if it is only one incident, will help you report to your employer, consider other legal options, or access income supports. You do not need evidence to get help from sexual violence supports available throughout Ontario.
What Supports Can Help Workers Experiencing Workplace Sexual Harassment?
It is never your fault for experiencing sexual harassment at work. It is your workplace's responsibility is to create a safe and secure work environment free from harassment, discrimination, and violence at work as defined under the OHSA and the Code. Your employer must investigate all complaints—informal and formal—and provide support while completing investigations. Support during an investigation can include:
1. Modifying your work environment to reduce contact with the harasser.
2. Taking time off work while the investigation continues.
3. Asking for a support person like a professional or family or friend during interviews
4. Paying for an interpreter so that there are no language barriers.
5. Keeping the investigation private and confidential.

You are not alone; help is available. Contact the Sexual Harassment and Assault Resource Exchange (SHARE) to learn more about legal and non-legal options to address your experience of workplace sexual harassment.